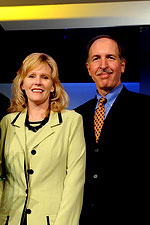 Today's fast-paced business environment demands that small- and medium-size companies work hard to stay competitive. One advantage smaller businesses have is their ability to react very quickly to changes in the marketplace and respond to their customers. The last thing a growing business usually asks itself is, "Will my telephone system support my communication requirements – today and tomorrow?" Successful future communications begin with the voice/data platform you select today.
Businesses that don't expect to stay small forever require a system that can grow with them. A building block approach allows for easy cost-effective expansion. Buying only what is needed today keeps the system affordable.
Remember when computers and data communications were only for large companies? Today the computer is a fixture in many small businesses and an indispensable business tool. To meet and beat the competition, smaller businesses often drive technology and are willing to explore new methods to save time and money. The architecture of the telephone system must allow for future enhancements. Modularity and In-Skin applications are both required for future applications.
A Small-to-Medium Business (SMB) communications system should be a complete small business communication platform. This system may be a key telephone system or it may be a server-based all-in-one PBX system. Selecting a specific system requires a total evaluation of your business goals and future direction. Voice, data, Voice over IP (VoIP), voice mail, and call centers are just a few things that need to be considered when selecting an SMB communications system.
Small businesses do not have the luxury of time or a telecom department to support their system. Businesses need to be self-sufficient and cannot turn their system off for adds, moves, and changes. A telephone system must allow for online changes and maintenance and must get applications running without interrupting business.
Small Business Solutions:

From design, implementation, management, and repair, WTS offers end-to-end IT support for all your networking and IT needs.

WTS is simplifying IT with our fully managed service solutions providing day-to-day delivery of server upkeep, application maintenance, security, backup training, and disaster recovery.

Communicate effectively with comprehensive, reliable, and fully managed phone and unified communication solutions.

At WTS, we can help you leverage both on-premise and cloud-based virtualization to improve cost-effectiveness and the flexibility of your IT Network.

Protecting your business is becoming increasingly challenging. WTS offers a broad range of security solutions including intrusion detection, video surveillance, and access control systems.

WTS specializes in voice, data, and fiber optic cabling and wireless LAN rollouts based on reliable, high-quality, standards-based cabling and network infrastructure components.