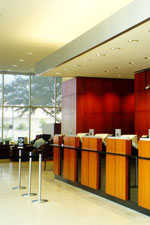 Financial institutions need robust communications systems to increase operational efficiency, lower institutional risk, and comply with current regulatory standards. Through our approach to business communications, we address all of these needs with people at its center. Instead of technology defining how people communicate in a role, the role defines the technology used to communicate. Using this approach, communications are tailored to each individual's role, which ensures a communications system that increases employee productivity and efficiency and ensures network security and compliance with current regulatory standards. As a total communications solutions provider for the financial industry, we offer both tools and services to help institutions fully realize the value of technology.

From design, implementation, management, and repair, WTS offers end-to-end IT support for all your networking and IT needs.

WTS is simplifying IT with our fully managed service solutions providing day-to-day delivery of server upkeep, application maintenance, security, backup training, and disaster recovery.

Communicate effectively with comprehensive, reliable, and fully managed phone and unified communication solutions.

Protecting your business is becoming increasingly challenging. WTS offers a broad range of security solutions including intrusion detection, video surveillance, and access control systems.

WTS specializes in voice, data, and fiber optic cabling and wireless LAN rollouts based on reliable, high-quality, standards-based cabling and network infrastructure components.