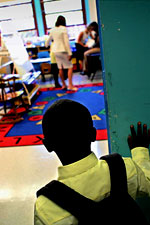 Classrooms today use technology to enable teachers and students to communicate more efficiently. The right tools foster more student involvement, promote better learning and help make K-12 schools safer places. WTS can provide these tools. The proliferation of laptop computers and internet use – even among the youngest students, the need for constant access to teachers and faculty, and the inclusion of separate school districts into a centralized communication infrastructure, means that K-12 schools have the communication needs of a university. Through our approach to communications, we address all of these needs putting people and students at its center. Instead of technology defining how people communicate in a role, the role defines the technology used to communicate. Using this approach, communications are tailored to each individual's role or need, which ensures a communications system that meets the requirements of teachers, staff, students and parents. With a robust communications system in place, teachers have the right tools necessary to communicate in and out of the classroom to both students and parents. Staff has a way of communicating important school information to everyone efficiently and students benefit from having access to the information they require.

From design, implementation, management and repair, WTS offers end-to-end IT support for all your networking and IT needs.

WTS is simplifying IT with our fully managed service solutions providing day-to-day delivery of server upkeep, application maintenance, security, backup training and disaster recovery.

Communicate effectively with comprehensive, reliable and fully managed phone and unified communication solutions.

At WTS, we can help you leverage both on premise and cloud-based virtualization to improve cost effectiveness and the flexibility of your IT Network.

Protecting your business is becoming increasingly challenging. WTS offers a broad range of security solutions including intrusion detection, video surveillance and access control systems.

WTS specializes in voice, data, and fiber optic cabling and wireless LAN rollouts based on reliable, high-quality, standards-based cabling and network infrastructure components.