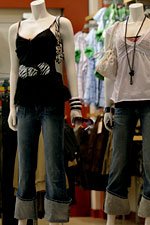 Every retailer is unique. While you need to address common issues such as cost control, shrinkage and inventory management, WTS's Retail solutions are designed to consider your specific needs. What type of retail business are you in? Automotive, grocery, big box, specialty? Where in the chain do you want to focus? Corporate, stores, .com stores, mobile employees, or your warehouse locations? What issues do you want to address?

From design, implementation, management and repair, WTS offers end-to-end IT support for all your networking and IT needs.

WTS is simplifying IT with our fully managed service solutions providing day-to-day delivery of server upkeep, application maintenance, security, backup training and disaster recovery.

Communicate effectively with comprehensive, reliable and fully managed phone and unified communication solutions.

At WTS, we can help you leverage both on premise and cloud-based virtualization to improve cost effectiveness and the flexibility of your IT Network.

Protecting your business is becoming increasingly challenging. WTS offers a broad range of security solutions including intrusion detection, video surveillance and access control systems.

WTS specializes in voice, data, and fiber optic cabling and wireless LAN rollouts based on reliable, high-quality, standards-based cabling and network infrastructure components.