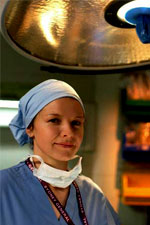 In today's ever-changing healthcare world keeping up with technology is a tremendous challenge. HIPAA, government mandates and reporting, quality of care and addressing patient needs are every facilities biggest concern.
However, the biggest investment in your healthcare facility is not technology – it is people. WTS's approach to technology places people at its center. Instead of technology defining how people communicate in a role, the role defines the technology we use to communicate. This approach allows WTS to tailor solutions for each individual role, ensuring quick and easy access to healthcare resources and records so patients get the best care possible.
WTS offers a wide-range of healthcare solutions that can help you streamline care delivery through effective mobile and point-of-care communications systems. Additionally, through convergence, these systems support the instant messaging of medical images and patient records, which enables more efficient and secure bedside decision-making processes. The ability to access the information you need, when and where you need it, is critical to the delivery of outstanding patient care.

WTS is simplifying IT with our fully managed service solutions providing day-to-day delivery of server upkeep, application maintenance, security, backup training and disaster recovery.

Communicate effectively with comprehensive, reliable and fully managed phone and unified communication solutions.

At WTS, we can help you leverage both on premise and cloud-based virtualization to improve cost effectiveness and the flexibility of your IT Network.

Protecting your business is becoming increasingly challenging. WTS offers a broad range of security solutions including intrusion detection, video surveillance and access control systems.

WTS specializes in voice, data, and fiber optic cabling and wireless LAN rollouts based on reliable, high-quality, standards-based cabling and network infrastructure components.

Increase patient privacy by reducing distractions. WTS utilizes Quiet Technology™ to create better acoustic environments in virtually any space.